Disclaimer: This post may contain affiliate links. You can read my full disclosure here
Happy New Year 2019 everyone. Days do really seem to fly don't they? Hope each and every one of you had a lovely Christmas and enjoyed the long holidays with family and friends.
I am glad I took some time away from the blogging world. While I was away, I managed to declutter my workspace, closet and I can say the whole house. I am now in the process of clearing all unnecessary files and photos from my laptop and mobile.
Looking forward into the New Year, I am someone that loves to journal. It helps me to not only relieve stress but reflect on how far I have come. Journaling also helps me to understand myself better and stay more focused in my life.
I know many of you out there simply love journaling. Whether it's bullet journal or the old school method, jounaling does give some sort of comfort in our daily lives.
Journal Prompts Ideas For January 2019
I will share a monthly journal prompt series beginning this month until the end on the year. Most of it will be short prompts to help you reflect on life. If you are blogging based on theses prompts, do let me know. I would love to include your post urls in my future posts.
Total there will be 31 Journal Prompt Ideas For January, which means you get to focus on one prompt idea per day. I will try to divide those prompts with a different theme each week.
Week 1 Journal Prompt Ideas – Goals
List down 10 personal goals for 2019.
5 things that you are looking forward to in 2019.
Write 10 business, career or blogging goals for this year.
What are your top priorities for 2019?
Describe how you imagine 2019 would be like for you.
What are the habits that you want to get rid of?
List down your financial goals for this year.
Week 2 Journal Prompt Ideas – Reflect
How did the events of 2018 affect your life?
Summarize 2018 in 3 paragraphs
List down 5 things you wished you did in 2018?
Which was your most favourite day in 2018?
Who or what inspired you last year?
Make a list of the things that made you smile last year.
How were your emotions for the whole of 2018?
Week 3 Journal Prompt Ideas – Inspiration
List the things you wished to do this year.
What are the new things you wish to give a try this year?
Name the one big step you are going to take in 2019
What do you wish to cross out from your bucket list in 2019?
Describe the type of positivity that you plan to spread this year.
How do you plan to increase your income this year?
List down5 inspirational quote that keeps you motivated
Week 4 Journal Prompt Ideas – Random
List 10 things you really need to buy.
How do you plan to stay healthy all throughout the year?
What biggest challenge you wished to overcome this year?
Describe your first success story of 2019.
If you could change something right now, what would it be?
What is taking the most space in your mind right now?
Where is the one place you want to visit this year?
The one song that you feel should be dedicated to you
Write about something that made you feel so grateful in January.
Summarize January 2019.
As usual, after you have completed this compilation of 31 journal prompt ideas, spend some time to read back all of your answers. Believe me, after reading it you will get a much clearer picture of your 2019 journey.
You can also try out 31 Journal Prompt Ideas for self-love
If you are searching for a suitable book to journal and plan for 2019, do check out Daily Greatness and InkWell Press. Just click on one of the banners below to get a closer look at what they are offering. It's never too late to buy a quality journal.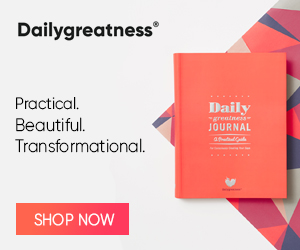 The Dailygreatness Journal is one of the bestselling journals. It focuses on personal development, goal planning and organisation. This journal also includes a daily gratitude and intention journal, appointment planners, comprehensive goal planners, healthy habit reminders, weekly, quarterly and yearly checks and not to forget mindset coaching.
Dailygreatness Journal is suitable for both, males and females. It has 488 full coloured pages measuring 24 x 18cm. It is an undated journal, so you can start writing at any time of the year. And it would be suitable to write your monthly 31 Journal Prompt Ideas


I believe a journal or a planner is a great tool to achieve your personal goals and at the same time helps you to be more motivated and organised. I would be lost without a journal and planner by my side.
Happy New Year 2019
I will like to take this opportunity to wish you a very Happy New Year 2019. May all your dreams, goals and wishes come true.
NOTE: I am opening two slots of Guest Post for this month. If you would love to do a guest post here, do email me at admin@karenmonica.com
Until my next post. Hope you enjoyed 31 Journal Prompt Ideas For January